Instagram bio font ideas that you should steal right away
Reading Time: 4 minutes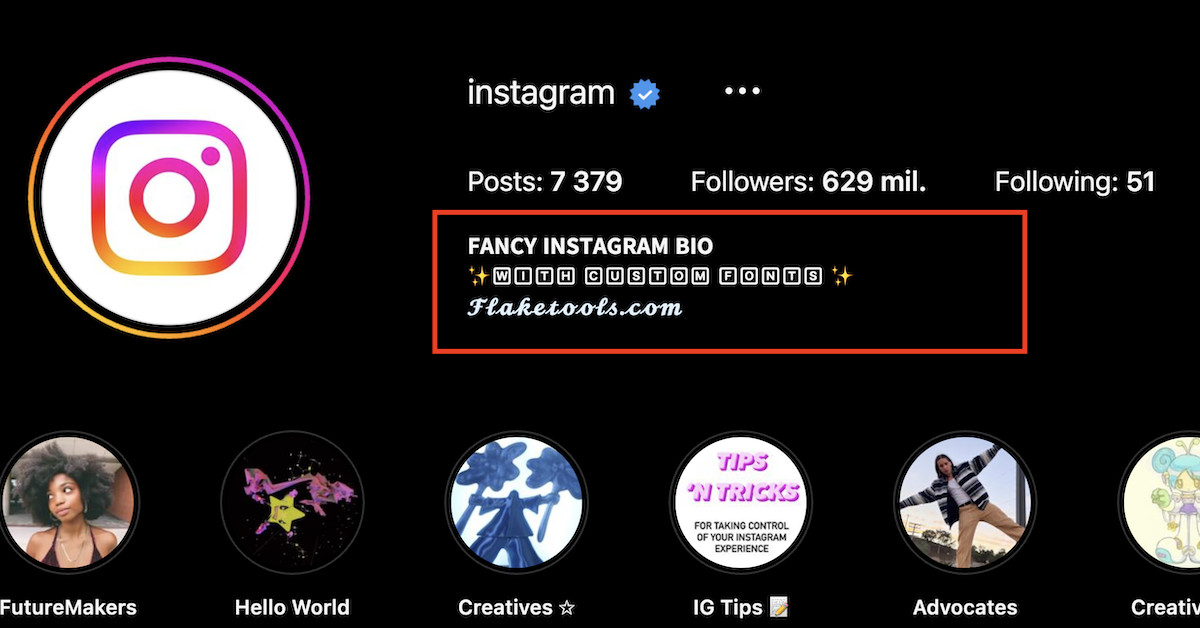 Have you ever looked at your Instagram bio from other users' perspective? Does it feel boring or even blank? Let's fix that with some Instagram bio font ideas in this article.
How to use custom fonts on instagram?
Have you ever seen custom fonts on Instagram users' bios? I'm sure you have. Instagram allows users to customize their profiles with "custom fonts". But what are they, and how can you use them?
Bio fonts are not actually fonts. They are just characters from an extended character set called Unicode. You typically don't use them in daily use, but they are here to help you stand out.
It's pretty hard to list them all because Unicode contains more than 149,186 characters. They are used for special mathematical formulas, foreign languages, and so on.
You are free to use them if you know how. However, trying to manually list them is pretty much impossible. That's why we created our bio font tool. It will generate nice bio fonts for you in seconds.
Simply go to the fancy text generator and type what you want in your bio. But let's inspire yourself first with the ideas below.
Ideas for bio fonts
All the ideas shown below can be created using our free tool available at Fancy text generator.
Squared characters in bio

You can use square characters for the part of your bio that contains your name or profession. This type of text will draw users' attention. However, keep in mind that this text is harder to read than regular text. Therefore, we do not recommend going crazy with square characters. Keep them on one line and combine them with another font that is easier to read.
Boldy instagram bio
On the other hand, if you need to grab users' attention while keeping readability at the highest possible level, you can use bold text in your Instagram bio. Again, do not put bold text on multiple lines and mix it with other fonts to create the best result.
Ghetto instagram bio

This font is pretty fancy but also one of the toughest to read. We recommend using this font for text that is not too hard to read and is memorable, such as your name or brand. Do not write longer text with this font, as your users may have a hard time reading it.
Italic & Bold Bio
This font has no readability issues and can be used for larger text as well.
Outline glow Bio

This font is harder to read but very fancy. Use it for shorter text, and you will get amazing results when combined with other fonts.
Mixing with Emojis

The final idea is not only to use our fancy text generator but also to add emojis to the text. Which emojis to add is up to you. You can easily list them all via the mobile keyboard on your Instagram app. However, do not overfill your Instagram bio with dozens of emojis. Use a maximum of 4 to 6 emojis to get the best appearance result.
Conclusion
We have covered what those "custom fonts" are on other users' Instagram bios and how to quickly use them with our tool.
We have also covered a few font ideas that we hope will kick off your inspiration. Don't forget not to overfill your profile with dozens of custom fonts and emojis, and keep readability in mind.
We have also provided a few ideas that can help you stand out. We hope you will create an amazing Instagram bio!